A New Era
In November of 2012, Chief Sam Gonzalez recognized the importance social media had in the community and law enforcement. After attending several conferences and meetings with other chiefs, it was evident that social media was a key topic for law enforcement managers and their agencies.
Azusa is home to Azusa Pacific University, and the nearby city of Glendora is home to Citrus Community College. Azusa's residents average age is 30 years old. Soon, the Metrolink Goldline will have two stations here in Azusa, thus expanding our exposure to hundreds, if not thousands of commuters. Additionally, the 210 freeway traverses our city, linking the Inland Empire to downtown Los Angeles.
Taking into account these facts has made us recognize how important it is to communicate with the public, and also realize the means our public uses to get their news and information. Social Media...
Unlike Other Government Websites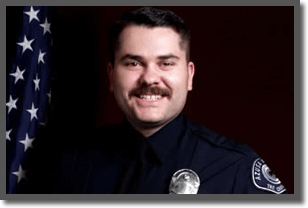 Chief Gonzalez tasked the design and development of the website to Senior Officer Mike Bires. Mike has experience in professional website development, as well as 20 years experience in law enforcement. Chief Gonzalez' single most important instruction to Mike was, "make it clean and easy to use."
After speaking with community members, law enforcement officers, friends, family and neighbors, the opinion was unanimous. Most law enforcement websites are packed with an abundance of information, usually squeezed onto the front page, creating the user to become exhausted or overwhelmed as soon as they arrive at the page. It was also clear that the language and style of writing was not appealing to the visitor. It was too "rigid."
We needed to ask ourselves the following questions:
Technology - How are people going to view our website? Are the majority going to use smartphones, laptops, tablets, or desktop PC's?
Purpose - Why are they visiting our website? Do they want to know why there's a police helicopter circling their neighborhood? Do they need to know how to get a restraining order?
Communication - How will our visitors communicate with us? Will they send a letter? Do they prefer Facebook or Twitter?
Favorited - What websites does the world like, and which ones do they hate? Why?
Demeanor - Does the public want straight forward, direct, firm answers? Or do they want a relaxed, on-the-level, real answer?
The Solution Evolves
So after doing some research and attending some conferences and training, it was pretty clear what the solution for the new Azusa Police Department website would be:
"Our website will be easily navigated and layed out in a manner for people to find what they need, efficiently and quickly, and tailored for phones and tablets. We recognize that web content is a conversation, initiated by the person who arrives at our webpage. Therefore, our tone and language needs to suit our visitors tone and language. Our website will be integrated with the major social media channels, such as Facebook, Twitter, and YouTube, so as to communicate openly and effectively with our public. Lastly, we will design the website to be clean in the fact we will limit lines and words, and use fonts which are soft and inviting." - Officer Mike Bires
A Team Is Assembled
After doing some "T&E" (Testing and evaluating), we accumulated several "fans" and "likes" on social media, and we knew our community was going to embrace what we were going to do. With this, it also meant Mike would need some help managing the social media program. Policies needed to be written, and proceedures needed to be tested and developed. Because of the nature of what we do in law enforcement is sensitive and critical, we also knew we would need a direct link to the office of the Chief of Police, thru a direct supervisor.
With an anticipated launch date of January 1, 2014, the department formed the first Social Media Team in August of 2013. The team, consisting of Mike and two other officers, are led by two sergeants, and work directly under the supervision of the department's command staff.
Contact The Team
If you are a law enforcement agency needing guidance or assistance implementing your social media program or website, please This email address is being protected from spambots. You need JavaScript enabled to view it.. We're more than happy to help fellow officers and departments!