Today, at about 12:15 pm, police officers from the Azusa Police Department responded to the Vernon Avenue overpass of the I-210 Freeway on a report of a suicidal female threatening to jump. Upon arriving, the officers found a 22 year-old female Azusa resident hanging on to the outside of the overpass chain link safety fence. Prior to their arrival, a good Samaritan had attempted to secure one of the female's wrists to the fence using a leather pants belt.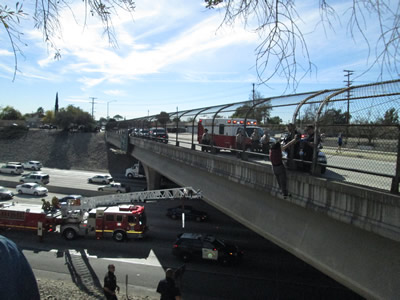 While standing on the overpass, the police officers spoke with the victim and did their best to communicate with her. Fortunately, the officers were able to handcuff both of the victim's wrists to the fence, which prevented her from falling. The California Highway Patrol initially closed all west bound lanes of the freeway, but later reduced the closure to only the number four lane.
Firefighters from the Los Angeles County Fire Department responded and rescued the victim using a ladder truck, which they parked on the freeway. The rescue efforts took 30 minutes and the freeway was partially blocked for approximately 40 minutes.
The victim was transported to a local hospital for treatment.
The Azusa Police Department wants to remind everyone that if you are having a difficult time during the holidays, there are services available to help you. If you or someone you know needs to speak to someone, please call the National Suicide Prevention Line at 1-800-273-8255.