When a life is in peril, the Los Angeles County Sheriff's Department's Air Rescue 5 is called into action. Air Rescue 5 has been a life saving tool for the people of Azusa for several years.
It's not uncommon to be driving on Foothill Boulevard and suddenly see that huge green and gold helicopter getting lower and lower. The awesome sight of the Eurocopter AS 332L1 Super Puma draws attention for miles around as it prepares for it's landing within the city limits.
Why Land In Azusa?
Air-Rescue 5 will land in Azusa when requested by the Los Angeles County Fire Department Paramedics serving our city. When life threatening injuries warrant the patient getting to a trauma center immediately, sometimes the quickest route is by air. Protocols established by the Los Angeles County Department of Health are followed by the paramedics when evaluating whether a patient needs to be "air-lifted" or not.
Depending where the patient is located in the city will determine where Air-Rescue 5 will land. It's usually a park, where there is plenty of room to safely land the helicopter.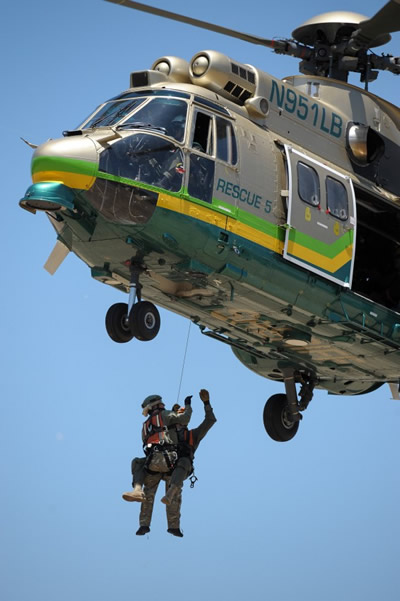 Special Training
There are only 20 deputy sheriff's assigned to Air-Rescue 5, which means competition to get on the job is fierce. Along with the two pilots, there are 3 deputies in the back of the helicopter. The crew chief, who is normally a sergeant, operates the radios and hoist on the helicopter. The remaining two deputies are paramedics from the sheriff's department's elite Special Enforcement Bureau.
The paramedics are not only deputy sheriffs, but they are also SWAT members, trained rescue divers and mountain rescue certified. When you are injured and hanging on the edge of a cliff, there's no one else you want more than one of these deputies coming to your rescue.
Why Not LA County Fire?
Usually, the only thing which determines whether an "air-lift" is done by the sheriffs or LA County Fire is where the helicopter is in relation to the patient. If a fire department helicopter is closer than Air-Rescue 5, then by all means, the fire department's helicopter will handle the call.
Clearing The Field
Typically, you will see an Azusa Police Officer clearing a field to make sure it is clear for the helicopter to land. If you are near the field, we recommend keeping yourself and chidren at a safe distance, and following the orders given by any firefighting or law enforcement personnel.
Watch video of Air-Rescue 5 taking off from a field in LA county.