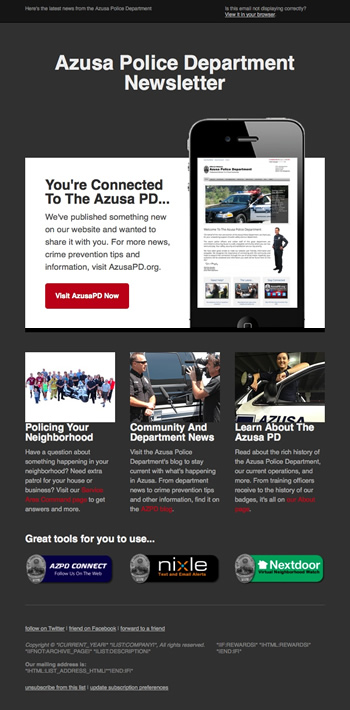 If you aren't a social media junkie or don't like surfing the web constantly, then consider getting your Azusa PD news from our email newsletter service.
How To Sign Up
It's pretty simple to sign up for our email newsletter. Simply go over to azusapd.org/connect and use the sign up module on the right side of the page. Enter your first and last name and your email address, and click "Subscribe." You'll be redirected to a page informing you to check and verify your email address. You can click on a button on this page to return to the Azusa PD website, if you wish.
Next, simply open up your email program and you should see a confirmation email in your inbox. Once you confirm your address, you'll be added to our email list.
What Will You Get?
Currently, we have designed the newsletter to be sent once a day at 8 am, providing there's something new on the website. In other words, if there is no new press releases, tips or information, then you will not receive an email.
If there is something new on the website, then you will get an email sent to you.
How We Use Your Information
Don't worry. The Azusa Police Department has no intention of selling or giving away your name or email address to any marketers or other entities. Your information is for communication purposes only, between the police department and you.
Opt Out At Anytime
You can cancel your subscription at anytime, by simply clicking on "unsubscribe" at the bottom of the newsletter.