The Azusa Police Department is looking for any information leading to the whereabouts of Teresa Fuller. Teresa was last seen at 926 E. Citrus Edge Street in the city of Azusa. Somewhere between Thursday, May 12, 2016 at 10 pm and Friday, May 13, 2016 at 2:35 am, Teresa left her residence.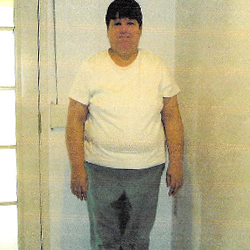 Teresa is known to travel to the 99 Center Store located on Citrus Avenue, just south of Alosta Avenue in Azusa. She also frequents the McDonald's Restaurant on Alosta Avenue, just east of Citrus Avenue. Teresa does not have any debit or credit cards, money or a cell phone, but she may have a bus pass.
Teresa takes medications, which she does not have in her possession. She is white and 38 years of age, about 5'03" and 190 pounds, with dark hair and dark eyes. She was last seen wearing blue pants, a white long sleeve polo shirt and black sandals.
If you see Teresa, please call 911.