Azusa police officers respond to an early morning fire in a construction area and find new homes burning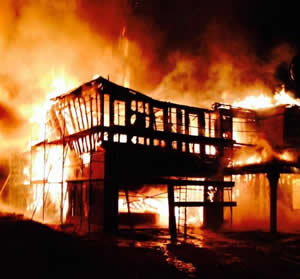 Photo courtesy LA County FireThis morning at about 1:07 AM, Azusa Police Department officers responded to a call of a structure fire in the Rosedale community, in the northern portion of Azusa. Upon their arrival, the officers saw two new homes were fully engulfed in flames in the 500 block of E. Desert Willow. These homes were being built by the developer, as were several other homes on this block.
Several Los Angeles County Fire Department personnel and equipment responded and subsequently extinguished the fires. The fire department's arson investigators arrived at the scene and conducted an initial assessment. They will return during daytime hours to continue their investigation.
At this time, the investigators have not determined a cause for the fire. Both houses appear to have been completely destroyed. The initial damage estimate is $500,000. No police officers, firefighters, or residents were injured.

There was a report of what sounded like two people arguing in the area where this incident occurred, immediately prior to the fire. If anybody has any information about the fire or of any suspicious people in that area, they are encouraged to contact the Azusa Police Department at (626)812-3200. If you wish to remain anonymous, you may click on the anonymous tip logo at the top of our website.
Stay Connected To Azusa PD
Follow the Azusa PD online through our various social media channels, which can be found here.