On December 26, 2015 at about 4:48 pm, Azusa Police officers were dispatched to a robbery at the CVS Pharmacy located at 367 N. Citrus Avenue, in Azusa.
Upon their arrival, the officers located a female victim. The victim told the officers she had been approached by two males while she was inside the store. Suspect #1 approached the victim from behind and pressed a sharp instrument, which was possibly a knife, against her back. Fearing she was being robbed, the female screamed and gained the attention of a store employee, who was able to interrupt the robbery.
The suspects immediately left the store. The victim was not injured in this incident. CVS Pharmacy provided video of the incident and several still images were captured of the suspects.
About The Suspects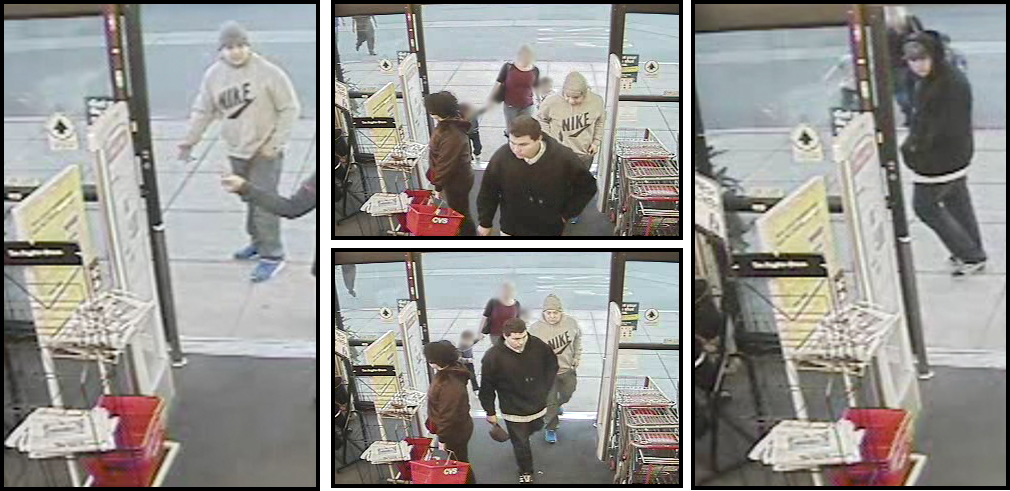 Suspect #1: Hispanic male, about 20 to 25 years of age; 5'06" to 5'08" tall, medium build, with dark hair. He was wearing a gray hooded sweatshirt with a Nike emblem on the front, blue jeans, a gray beanie, and bright blue athletic shoes.
Suspect #2: Hispanic male, about 20 to 25 years of age, 5'09" tall, husky build, with dark hair. He was wearing a black hooded sweatshirt with a white shirt underneath, blue jeans and black and white athletic shoes.
Contact Us
If you have any information that could assist with this investigation, please contact Azusa Police Detective S. Chapman at (626) 812-3252, or email him at This email address is being protected from spambots. You need JavaScript enabled to view it.. You can remain anonymous by clicking on the anonymous tip logo at the top of our website.
Spread The Word
We would also appreciate it if you would consider sharing this video on social media. Simply visit our Facebook page at Facebook.com/azusapd and share the post about this crime with your family friends neighbors and coworkers .
You can also follow us on Twitter with the handle of @AzusaPD, and tweet out the information about this crime as well.
Click here to Tweet: Help @AzusaPD find the suspects in this video trying to rob a woman - Visit http://bit.ly/TellAZPD for video, pictures and info #Azusa
Last, consider subscribing to our YouTube channel at YouTube.com/AzusaPD, to share this video and receive updated videos about this and other crimes, news and information happening in Azusa.
What If This Happened To You?
Remember, to remain calm. If the attacker wants your purse, wallet or cell phone, simply give it to them. Your life is not worth it.
As a last resort, and only when your life is in imminent danger, make a lot of noise. Yell scream and ask for help and fight off the attacker with as much physical aggression as possible.
Remember everything you can about the attacker, and immediately call 911.