There's a new program at the Azusa High School geared towards bridging the gap between police officers and high school students. Developed by Officer Roland Martinez, who is the school resource officer on the campus, the first "SRO Student Of The Month" award was given out today at the school's monthly award's banquet.
The winner of this month's award is Daisy Dominguez Hooper. Daisy is a senior who is planning on attending UC Davis in the fall of 2015. She is a member of the school's cheerleading team, and she was selected as the Outstanding Teen for the 2013 Golden Days Parade and Festival.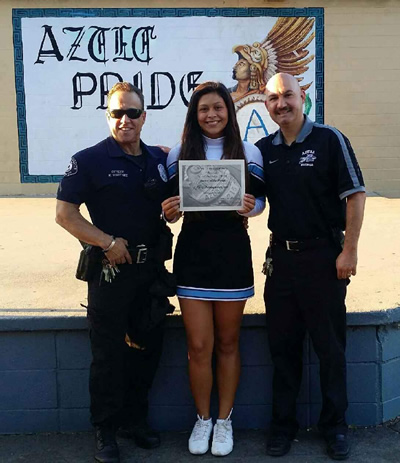 Daisy is involved in the "Best Buddies" program at the school, which is a program where students have lunch and interact with disabled students. Additionally, Daisy is a mentor to incoming freshmen through the "Last Crew" club. As if that isn't enough, Daisy played volleyball for 3 years, and softball for 1 year!
We salute Daisy in being a great student and more importantly, an example of the great youth we have here in the city of Azusa.
About The Award
Officer Martinez developed this award while on a quest to find a way to establish a better rapport between high school students and law enforcement. It's important for our youth and law enforcement to communicate and work with each other to create great relationships and even better communities.
The criteria for the award is based off of a student's good standing in respect to:
Grades
Attendance
Teacher and Administration support
Good Behavior
Participation in extra curricular activities
Show an interest in continuing their education, pursuing a career in public safety or an interest in enlisting in the military
We look forward to next month's winner. Officer Martinez has reported he has had several students approaching him to learn more about the award, as well as to learn more about become a police officer. Great job Officer Martinez!