The February 2015 recipient of the Azusa Police Department's School Resource Officer Student of The Month Award is Angel Maldonado.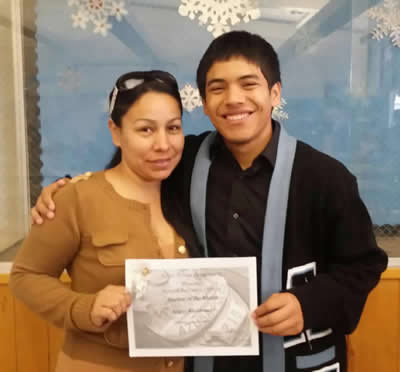 Angel is a Senior at Azusa High School. He is very active in sports, and has received the following awards:
Honorable Mention - Mountain View League
2014 Azusa High School Most Valuable Player
1st Team All League" Mountain View League
1st Team Tribune -All San Gabriel Valley Team
San Gabriel Valley "Hall of Fame" All Star Game
Angel is currently the Azusa High School Associated Student Body (ASB) secretary, and he will be entering into the United States Air Force in September of this year.
Congratulations From Our Team
On behalf of Chief Sam Gonzalez, Officer Roland Martinez, and all the men and women of the Azusa Police Department, we congratulate you, Angel Maldonado, on being selected as the winner for the SRO Student of The Month Award for February, 2015. We wish you great success in your future endeavors.
About The Award
This award was developed by Officer Roland Martinez while on a quest to find a way to establish a better rapport between high school students and law enforcement. It's important for our youth and law enforcement to communicate and work with each other to create great relationships and even better communities.
The criteria for the award is based off of a student's good standing in respect to:
Grades
Attendance
Teacher and Administration support
Good Behavior
Participation in extra curricular activities
Show an interest in continuing their education, pursuing a career in public safety or an interest in enlisting in the military