The January 2015 recipient of the Azusa Police Department's School Resource Officer Student of The Month Award is Melissa Lopez. Ironically, Melissa is the sister of Melissa Lopez, who received the award in November of 2014.
Melissa is a Senior at Azusa High School. She has already registered for classes at Mount San Antonio College. Melissa is interested in pursuing a career in either law enforcement or firefighting.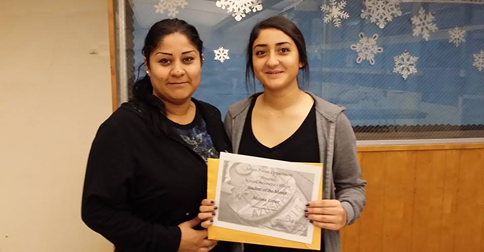 Melissa is a great leader on campus, and she is a member of the "Link Crew," which provides incoming freshmen with insight regarding adjusting to high school life. She has also participated in the cross-country running team, soccer team, the track team and the pageantry team.
Congratulations From Our Team
On behalf of Chief Sam Gonzalez, Officer Roland Martinez, and all the men and women of the Azusa Police Department, we congratulate you, Melissa Lopez, on being selected as the winner for the SRO Student of The Month Award for January, 2015. We wish you great success in your future endeavors.
About The Award
This award was developed by Officer Roland Martinez while on a quest to find a way to establish a better rapport between high school students and law enforcement. It's important for our youth and law enforcement to communicate and work with each other to create great relationships and even better communities.
The criteria for the award is based off of a student's good standing in respect to:
Grades
Attendance
Teacher and Administration support
Good Behavior
Participation in extra curricular activities
Show an interest in continuing their education, pursuing a career in public safety or an interest in enlisting in the military